Rubber Vulcanizing Machine /Rubber Compression Molding Machine Series (2RT Series - Vacuum Type & Slab Motion)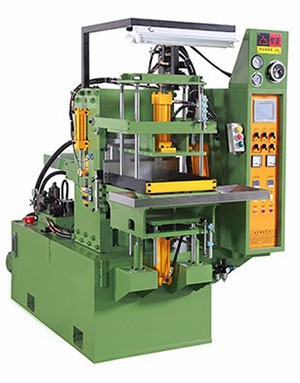 Rubber Vulcanizing Machine /Rubber Compression Molding Machine Series (2RT Series - Vacuum Type & Slab Motion)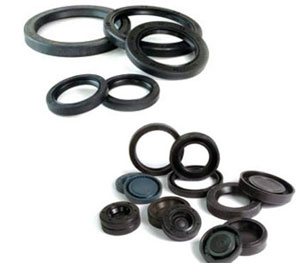 Model No:
2RT Series (Vacuum Type & Slab Motion)
Application:
Suitable for manufacturing Oil Seals,Bearing Seals, Rubber Parts of automobile and motorcycle industry and various kinds of rubber products.
Features
Vacuum Cover Unit – shortens curing time and increase production efficiency.
Hight Speed Vacuum System – eliminate air bubbles inside cured rubber products.
Mold in / out, bumping, striping all completed in one cycle automatically and every working process adjustable.
2RT Series Ejection Devices (Optional):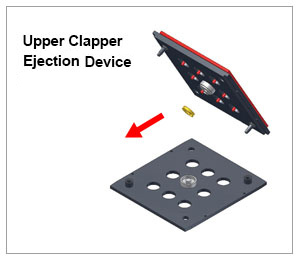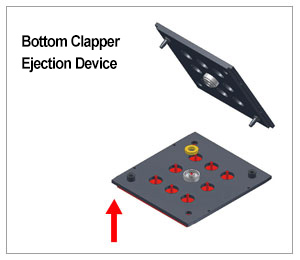 Machine Type: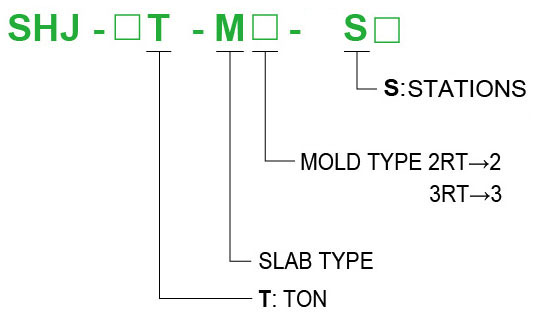 SPECIFICATION / MACHINE TYPE
Unit
SHJ-65T-M2
SHJ-80T-M2
SHJ-100T-M2
Clamping force (tonnage)
Ton
65
80
100
Main Ram Dia.
mm

Ø

200

Ø

225

Ø

250
Main Ram Stroke
mm
140
140
140
Heating platen size
mm
250 x 300
250 x 300
350 x 400
Bolster platen size
mm
290 x 320
290 x 320
390 x 420
Daylight
mm
140
140
140
Vacuum Device
Vacuum Device
Power
kw
6
6
8
Dimensions (LxWxH)
mm
1100x2100x1850
1100x2100x1850
1230x2300x1950
SPECIFICATION / MACHINE TYPE
Unit
SHJ-150T-M2
SHJ-250T-M2
Clamping force (tonnage)
Ton
150
250
Main Ram Dia.
mm

Ø

300

Ø

400
Main Ram Stroke
mm
140
140
Heating platen size
mm
450x480
570x610
Bolster platen size
mm
500x520
620x620
Daylight
mm
140
140
Vacuum Device
Vacuum Device
Power
kw
16.5
26
Dimensions (LxWxH)
mm
1350x2500x2050
1500x3000x2300
(Note: Other Machine Type Double Stations)